---
Packages
---
addWhy choose DJ Cincinati?

• DJ Cincinati has more than 15 years experience.
• He provides wedding DJ service for different nationalities and cultures:
o Persian weddings
• He conduct pre-wedding consultation to go over all the details of events in order to understand the pulse of his client.
• He delivers all announcements and play the role of the emcee in a wedding.
• He plays music based on the bride and groom's requirements and taste of music of the guests.
• Unlike most DJs who give you a list of printed songs, DJ Cincinati has an extensive music archive, and there is no limit on what songs you can choose for your wedding. He is also good at reading his crowd.
• DJ Cincinati works with the wedding coordinator, caterer or banquet manager to keep the event running smoothly!
• DJ Cincinati has state of the art DJ equipment w/ wireless mic and backup equipment and he is completely insured.
• He can provide music for the ceremony, cocktail hours and reception.
• If you are looking for some light show at your wedding, then, DJ Cincinati can provide LED Uplighting, Intelligent lighting, and Monogram GOBO lighting too!
• DJ Cincinati also has back up DJs available in case of an emergency.
It is his passion for weddings and to ensure a memorable and stress-free wedding, makes him the most sought after DJ today!

addLighting

When you are planning to organize a wedding, the importance of lighting should not be underestimated. DJ Cincinati has both the expertise and experience to cater the clients' requirements. He understands the requirements, analyzing the need for lighting according to venue/ space, and then makes all the required lighting arrangements. He infuses the magical lighting effect with Up lighting, Intelligent lighting, Monogram GOBO lighting, and others.

addIntelligent Lighting

DJ Cincinati ensures you to setup an intelligent lighting for the dance floor. Intelligent lighting is one step ahead from normal DJ lighting. Intelligent lighting is usually used in live concerts and nightclubs. It adds 'wow' factor for wedding occasion.

addWedding DJ Services

Every wedding is unique, reflecting the individual tastes and styles of the bride and groom. Wedding is the most important day of one's life, and nobody wants to hire an inexperienced DJ, since music can make or break any wedding. You cannot undo the damage done to your wedding night by hiring an inexperienced DJ, unlike other events where you can hire an alternative DJ the next time. A wedding is a once in a lifetime event.
Just like any other profession, providing wedding DJ services requires one's skills to be top-notch. DJ Cincinati is the one to look out for as he has 17 plus years of experience and performs at more than 40 weddings every year. He has performed at some of the most prestigious venues all around the United States. What sets him apart from the other DJ service providers is that DJ Cincinati will take highest care by performing himself, unlike other DJ companies that after signing a contract with you, send an inexperienced, start up DJ to your wedding.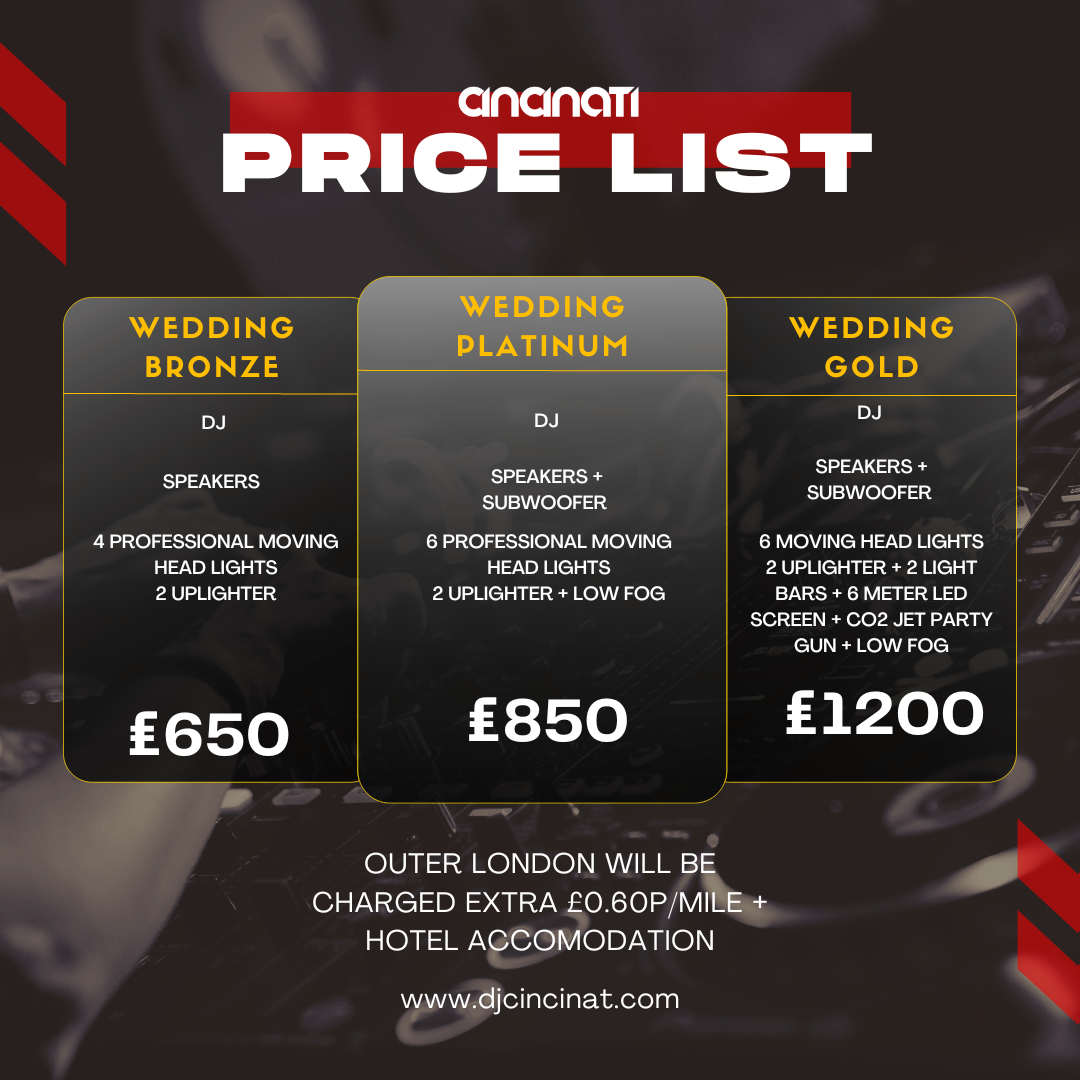 ---
---